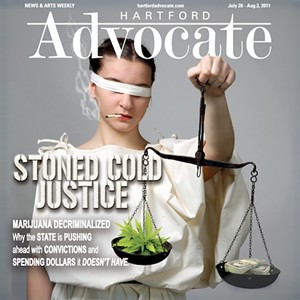 Hartford Advocate
www.hartfordadvocate.com
285 Broad Street
Hartford, Connecticut 06511
Phone:

(860) 548-9300

Fax:

(860) 548-9335
Circulation:

42,817 (as of March 2012)

Audited By:

Verified Audit Circulation

Publication Day:

Every Thursday

Market Served:

Greater Hartford Metro Area encompassing all the towns and cities in Hartford, Tolland, Middlesex, and parts of New London and Litchfield counties

National Advertising:

Alternative Weekly Network

Publishing Group:

New Mass. Media, Inc.
Cutting-edge news, comprehensive arts and entertainment, award-winning journalism -- the Hartford Advocate does it all week in and week out despite being owned by a corporate monolith. If anything the ownership has made the paper's employees only more aware of the importance of alternative journalism and all it represents. The paper covers Hartford County, which includes the state's Capitol and legislature, and extends into Litchfield and Tolland counties as well. The Hartford Advocate is part of a three-paper chain of alt weeklies that covers most of Connecticut.
Search AAN News Related to Hartford Advocate »
Demographics
Age

18-24 (16.10%)
25-34 (14.40%)
35-44 (36%)
45-49 (15%)
50+ (18.40%)

Gender

F: 41%
M: 59%

Education
Attended College:
30.70%

Graduated College:
19.20%

Occupation Professional/ Managerial:
23.80%

Median Household Income:
$60,000

Source: Media Audit, Nov. 2005