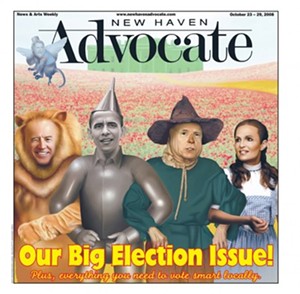 New Haven Advocate
www.newhavenadvocate.com
900 Chapel St.
Suite 1100
New Haven, Connecticut 06510
Phone:

(203) 789-0010

Fax:

(203) 787-1418
Circulation:

40,959 (as of March 2012)

Audited By:

Verified Audit Circulation

Publication Day:

Every Thursday

Market Served:

Greater New Haven

National Advertising:

Alternative Weekly Network

Publishing Group:

New Mass. Media, Inc.
Since 1975, the New Haven Advocate has served as both the cultural guide and the main source of investigative journalism in the area. It has broken major stories about municipal corruption, brain cancer at Pratt & Whitney and predatory debt collection practices at the region's major hospital.

The paper has been a part of New Haven's artistic renaissance, authoritatively covering (and sponsoring) major arts festivals.

The heart of our circulation area lies in the same region as Yale and four other major universities; nearly half of our readers are college-educated, with a median household income of $53,592.

In recent years, the New Haven Advocate has grown sharply in retail ad pages, classified ad pages and circulation.

The New Haven Advocate is part of the 210,000- circulation Advocate/Weekly group of weeklies. The four newspapers serve a single market from Westchester County, New York through Connecticut and into Springfield and Northampton Mass., dominating weekly publishing in this affluent corridor of 4.6 million between New York City and Boston.
Search AAN News Related to New Haven Advocate »
Demographics
Age

18-54 (76.8%)
25-54 (67.9%)

Gender

F: 46%
M: 54%

Education
Attended College:
48%

Graduated College:
26%

Occupation Professional/ Managerial:
34%

Median Household Income:
$53,592

Source: Media Audit, Summer 2001
Staff
* email addresses available to members only