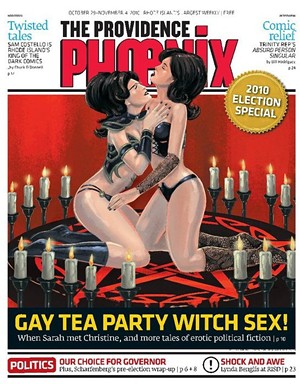 Providence Phoenix
www.providencephoenix.com
150 Chestnut St.
Providence, Rhode Island 02903
Phone:

(401) 273-6397

Fax:

(401) 351-1399
Circulation:

68,000 (As of December 2011 - figure submitted by publisher)

Audited By:

Not audited

Publication Day:

Every Thursday

Market Served:

State of Rhode island, parts of Connecticut and Southeeastern Massachusetts

National Advertising:

Alternative Weekly Network

Publishing Group:

Phoenix Media Communications Group
The Providence Phoenix, founded in 1979 as the New Paper, is part of the Phoenix Newspaper Group, which also publishes weeklies in Boston, Massachusetts and Portland, Maine (see Boston Phoenix).

With a circulation of 66,000 and more than 150,000 active readers, the Providence Phoenix is the only general-interest newspaper in Rhode Island with statewide circulation other than the local daily.

The size of the paper fluctuates from a low of 80 pages to a high of more than 220 for seasonal and special issues. The easy-to-use listings are the most comprehensive in the region, which includes all of Rhode Island and parts of Massachusetts and Connecticut.

Like its sister publications, the paper combines the immediacy of a newspaper with the depth of a magazine.

In addition to strong coverage of the local, regional, and national arts and entertainment scene the Providence Phoenix regularly publishes news and political stories that go unreported by the state's largest daily and broadcasters.

In recent years, staff members have been honored by groups ranging from the New England Press Association to local environmentalists.
Search AAN News Related to Providence Phoenix »
Demographics
Age

21-34 (37.0%)
25-49 (53.0%)

Gender

F: 60%
M: 40%

Education
Attended College:
65%

Graduated College:
38%

Occupation Professional/ Managerial:
35%

Median Household Income:
$48,000

Source: Media Audit 1999
Staff
* email addresses available to members only