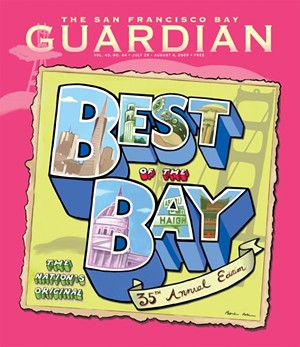 San Francisco Bay Guardian
www.sfbg.com
225 Bush, 17th Floor
San Francisco, California 94104
Phone:

(415) 255-3100

Fax:

(415) 255-8762
Circulation:

50,000 (as of June 2014)

Audited By:

Submitted by publisher

Publication Day:

Every Wednesday

Market Served:

San Francisco and the Bay Area

National Advertising:

Alternative Weekly Network

Publishing Group:

SF Media Co.
The San Francisco Bay Guardian was founded in 1966 as the first newsweekly specifically designed to be alternative to and competitive with the local daily newspaper monopoly. It has become one of the best-known and most respected editorial and advertising vehicles in the country. It's the number-one source for cultural, political, arts and entertainment coverage in one of the world's great cities.

The Guardian offers news, insight, and analysis that can't be found anywhere else to legions of loyal, intelligent, discerning, and sophisticated readers who return to the Guardian week after week to find out what to do, where to go, and how to understand the issues and trends in an ever-changing city.
Search AAN News Related to San Francisco Bay Guardian »
Demographics
Age

18-24 (7.4%)
25-34 (28.9%)
35-44 (27.2%)
45-54 (21.4%)
55+ (15.1%)

Gender

F: 44.2%
M: 55.8%

Education
Attended College:
76.60%

Graduated College:
46.90%

Occupation Median Household Income:
$75,104

Source: 2005 San Francisco Scarborough Research