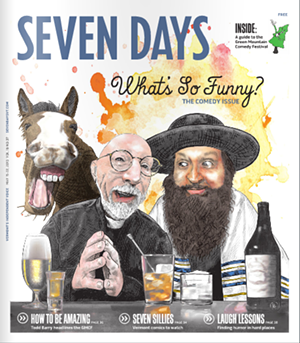 Seven Days
www.sevendaysvt.com
P.O. Box 1164
Burlington, Vermont 05402-1164
Phone:

(802) 864-5684

Fax:

(802) 865-1015
Circulation:

36,000 (as of March 2015)

Audited By:

Verified Audit Circulation

Publication Day:

Every Wednesday

Market Served:

Metro Burlington, NW & Ctr. VT, Plattsburgh, NY

National Advertising:

Alternative Weekly Network
Seven Days is a lively mix of local arts, news and opinion that examines and celebrates political and cultural life in Vermont. The paper links a "community" of 71,370 educated, active readers in urban, suburban and rural areas within an hour of supremely "liveable" metro Burlington. More than 90 percent have attended college. Weekly, audited distribution extends to seven ski areas and 12 college campuses, including Middlebury College and the University of Vermont. Seven Days specializes in cultural coverage, though our news writers also regularly snag awards from the Vermont Press Association. Our web video series, "Stuck in Vermont," has been featured on YouTube, and has racked up more than two million views. In 2013, Editor and Publisher included Seven Days in its annual feature, "10 Newspapers That Are Doing it Right."
Search AAN News Related to Seven Days »
Demographics
Age

18-24 (17.3%)
25-49 (57%)

Gender

F: 60.8%
M: 39.2%

Education
Attended College:
93.40%

Graduated College:
73.50%

Occupation Median Household Income:
$37,170

Source: Readers' Survey/local statis.