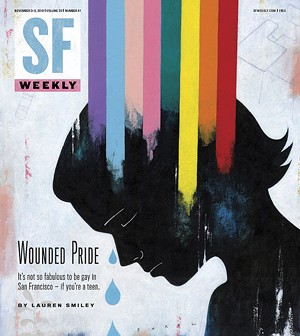 SF Weekly
www.sfweekly.com
225 Bush St., Floor 17
San Francisco, California 94104
Phone:

(415) 541-0700

Fax:

(415) 777-1839
Circulation:

85,046 (as of December 2010)

Audited By:

Audit Bureau of Circulations

Publication Day:

Every Wednesday

Market Served:

San Francisco

National Advertising:

Voice Media Group

Publishing Group:

SF Media Co.
At SF Weekly, we take journalism seriously without getting stuffy about it, make sardonic wit and literary style weekly occurrences, and absolutely cherish political independence. We can inveigh against the Total Information Awareness mindset of the Bush administration, and then, without a hint of hesitation, castigate San Francisco's leftist political establishment for its knee-jerk adherence to job-killing economic policies. Our eclectic combination of take-no-prisoners columns, high-impact investigative reportage (which has won some of the nation's most prestigious journalism honors, including the George Polk Award), exquisite feature writing, and comprehensive arts and entertainment coverage has attracted a loyal audience of more than 600,000 active urbanites. It's an audience as diverse as the city we cover, and as smart as SF Weekly strives to be, week after week.
Search AAN News Related to SF Weekly »
Demographics
Age

18-34 (44.5%)
25-49 (61.9%)

Gender

F: 42.8%
M: 57.2%

Education
Attended College:
73.90%

Graduated College:
57.80%

Occupation Professional/ Managerial:
49.50%

Median Household Income:
$60,947

Source: Media Audit, Spring 2003