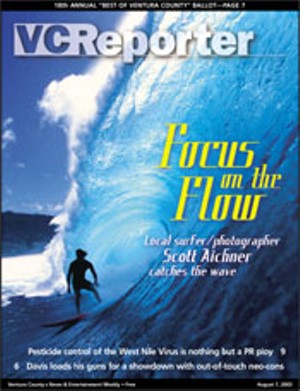 Ventura County Reporter
www.vcreporter.com
700 E. Main St.
Ventura, California 93001
USA
Phone:

(805) 648-2244

Fax:

(805) 658-7803
Circulation:

30,480 (as of September 2009)

Audited By:

Verified Audit Circulation

Publication Day:

Every Thursday

Market Served:

Greater Ventura County

National Advertising:

Alternative Weekly Network

Publishing Group:

Southland Publishing, Inc.
While two dailies duke it out for paper-of-record supremacy, each trying to out-do the other on coverage of crime and the local school board, the newly-revamped Ventura County Reporter gains momentum as the best local source for in-depth news on politics, growth and development and a range of societal issues.

And while the dailies churn out safe, tepid editorials, The Reporter's opinion pieces are always provocative missives that care little about offending the sensibilities of local bureaucrats or business elite. Our honest, independent reviews serve as important tools for readers rather than fluffy fodder for advertisers.

The Reporter serves our estimated 85,000 readers throughout the greater Ventura County area, including the cities of Camarillo, Ojai, Oxnard, Thousand Oaks and Ventura.
Search AAN News Related to Ventura County Reporter »
Demographics
Age

18-34 (18.0%)
35-44 (28.0%)
45+ (54.0%)

Gender

F: 49%
M: 51%

Education
Attended College:
86%

Graduated College:
50.50%

Occupation Professional/ Managerial:
48%

Median Household Income:
$56,300

Source: Reader Study, Summer 2000