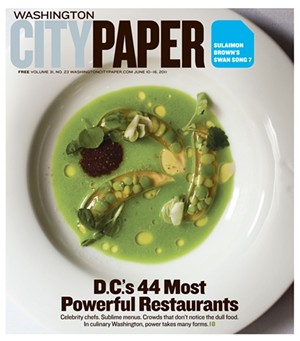 Washington City Paper
www.washingtoncitypaper.com
1400 I St. NW, Suite 900
Washington, District of Columbia 20005
Phone:

(202) 332-2100

Fax:

(202) 332-8500
Circulation:

72,250 (as of June 2014)

Audited By:

Verified Audit Circulation

Publication Day:

Every Thursday

Market Served:

Washington, D.C. and surrounding suburbs in Maryland and Virginia

National Advertising:

Voice Media Group

Publishing Group:

SouthComm, Inc.
In a city where a great deal of attention is focused on national affairs, Washington City Paper maintains a relentless emphasis on local Washington. City Paper serves as the definitive local guide to cultural and civic life in the District. Beyond helping people make the most of D.C., City Paper's dedication to groundbreaking reporting of local affairs reflects a strong commitment to the watchdog role of the alternative press. City Paper places serious emphasis on storytelling, employing some of the best writers in the industry.

A potent editorial mix, combined with elegant design and some of the lowest ad rates in AAN, has made City Paper one of the largest weeklies in the country. The paper's web site--washingtoncitypaper.com--is a music-intensive digital presence, giving additional visibility to the City Paper franchise. In a city that's home to the nation's opinion-makers, City Paper is Washington's authoritative local voice, engaging a well-defined demographic of young, active readers.
Search AAN News Related to Washington City Paper »