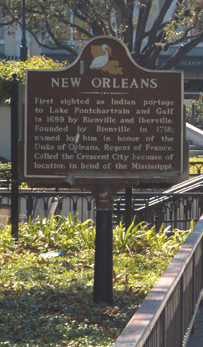 Photo courtesy New Orleans Convention and Visitors Bureau
New Orleans...
where European traditions blend with Caribbean influences, the history is as colorful as the local architecture; the food is the stuff of legend. Haitian and African Creoles developed an exotic, spicy cuisine and were instrumental in creating jazz and Cajun Zydeco.
The street names are French and Spanish, the Creole architecture comes in a carnival of tropical colors, and the voodoo is a Caribbean import. The magic is irresistible.
New Orleans is a cultural gumbo, where the celebrate their differences. In fact, they celebrate almost anything in the Big Easy. Laissez le Bons Temps Rouler -- Let the Good Times Roll. A reminder of french heritage, a way of life that began three centuries ago and remains today.
New Orleans is many things ...The Crescent City ...a sportsman's paradise ... the birthplace of Jazz ... a sensory overload with an authentic spirit. Experience the most celebrated and historic core of the city -- including the Faubourg Marigny, French Quarter, Central Business District, Warehouse and Arts District, Magazine Street corridor, Garden District, and the beautiful St. Charles Avenue, lined with shady oaks, stately homes and historic mansions ... a place like no other.
Hosted by Gambit
Registration
Register for AAN Convention 2011 starting April 8
Latest Updates
Sponsors
A hearty thank you to all of our 2011 sponsors. Please show your support by visiting them & learning all you can.
Exhibitors