Registration
Deadlines
AAN 2012 Convention News
Detroit is an amazing city. With its vibrant nightlife, world-class museums, championship sports teams and unparalleled architecture, it's no wonder
June 4, 2012
Saturday morning offers two separate opportunities to experience Detroit's favorite community treasures. One excursion visits the unique
Heidelberg

June 2, 2012
Watch the Detroit Tigers take on the Cleveland Indians on Wednesday, June 6th. Game time is 7:05 p.m. at
June 1, 2012
Beneath the surface of Detroit's buzzed-up urban redevelopment and influx of entrepreneurial commodification, beneath the mass-media glorification of the city
May 10, 2012
Detroit is provincial, prideful, yet somehow produces music that speaks universally. Another of our great contradictions. See, the city's spiritual
May 1, 2012
A few words about downtown Detroit, where you conventioneers will be based. We're not going to pull your leg that
April 16, 2012
Eminem. Kid Rock. More than 50 major entertainment, literary, and sport figures made Motown their hometown -- from Tim Allen
April 11, 2012
Detroit is known for one of the richest collections of late 19th-century, ethnic-based churches in the country.
Belle Isle,
April 10, 2012
Yes, your jaw will gape at the square miles of ravaged Victorian structures, abandoned deco skyscrapers and the multi-acre-sized auto
April 9, 2012
Hosted By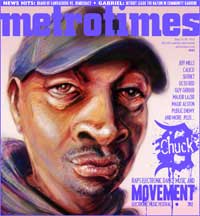 Detroit's weekly alternative
Sponsors
A hearty thank you to all of our 2012 sponsors. Please show your support by visiting them & learning all you can.
Exhibitors