Registration
Deadlines
Welcome
Yes, your jaw will gape at the square miles of ravaged Victorian structures, abandoned deco skyscrapers and the multi-acre-sized auto factories and civic landmarks wearingly returning to earth, but there's surprising reclamation within and you've good reason to see it. The city's haunted beauty is now pregnant with potential and change, and the creatives -- the activists, artists, writers, musicians and entrepreneurs, homegrown and new arrivals -- are seizing that promise.

Detroit's new narrative is about reinvention, creation, just as our alternative weeklies and websites are about reinvention and creation -- the parallels between the two aren't subtle.
The city is dichotomous: It's a multi-university town shaped by deep Southern roots. But too few residents inhabit Detroit's too-many square miles of "shrinking city" abandonment; and the fiscal and political repercussions are battled in headlines daily.

And yet … careers can be fostered through reuse of abandoned spaces and now-inexpensive buildings -- acres of dispossessed cityscape is fertile ground for locally grown produce, a whole neighborhood can become a drive-thru art installation.

The once-lifeless downtown is rising. Major employers have moved thousands of workers to new and renovated buildings. A leader in the turnaround, Quicken Loans, a Fortune Top 10 company to work for, has purchased millions of square feet of downtown space to house everything from venture capitalist firms to upstart designer companies, from new retailers to a new wave of residents breathing life into the area's nightlife.

More, the Detroit Lions, a team with the worst record in NFL history, became a Super Bowl contender this year while General Motors rose from ruin to again become the world's No. 1 automaker.

Detroit continues to fascinate; each day there's something new, intangible. We'll share some of that on this website in coming weeks, and in person when you arrive.

Brian Smith, managing editor, Metro Times
Hosted By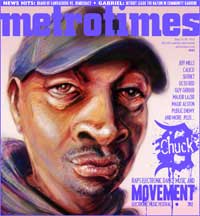 Detroit's weekly alternative
Sponsors
A hearty thank you to all of our 2012 sponsors. Please show your support by visiting them & learning all you can.
Exhibitors