Registration
Deadlines
Special Events
Thursday, June 7

5 to 6:30 pm
VirgAANs and VeterAANs Happy Hour
Are you under 40, Canadian, a first time convention go-er? Join the AAN board and staff for a beer and get to know us!

6:30 to 10 pm
Welcome to the D
Join us in Campus Martius Park, located a quarter mile from the convention hotel. Revel in a 360 degree view of Detroit's downtown district from the city's central point (8 Mile Road is exactly eight miles from the Park), in the shadow of the breathtaking Campus Martius fountain. Guests will enjoy finger foods with a Detroit flavor, from French-inspired fare at Fountain Bistro as well as Detroit's famous square Buddy's Pizza. Each guest will receive two drink tickets towards the bar featuring Michigan beer and spirits.

Friday, June 8

12:45 to 2:15 pm
Free Speech Lunch
Guest speaker: Herschel P. Fink
Herschel Fink defended Dr. Dre's right to film police officers who were on duty, and the Michigan State Supreme Court agreed. Fink, who has represented Michael Moore for the past 20 years, also played a key role in the Detroit Free Press freedom of information lawsuit that eventually put former Detroit Mayor Kwame Kilpatrick behind bars. Join us at AAN's Free Speech Lunch with the former newspaper reporter who has been described as one of "the best lawyers in America under First Amendment law" by the SPJ.
The lunch will take place at the Detroit cultural gem known as Cliff Bell's. Located just blocks away from the convention hotel, Cliff Bell's is like taking a step back into Detroit's storied past. Behold the 1930's charm of the lavish, art-deco interior while dining on a delectable catered buffet of French-inspired fare. Advance registration and separate fee of $25 required.

4 to 5:30 pm
AltWeekly Awards Presentation
We'll recognize and honor the winners of the AltWeekly Awards and their work at an afternoon reception. Toast the winners and runners-up with an adult beverage -- and enjoy a light bite as well. Advance registration and separate fee of $10 gets you two drink tickets.

7 to 10 pm
True Bleu
"Put your hands up for Detroit" rings true on Friday night at Bleu Detroit, one of the city's hottest nightclubs Experience techno in the city of its birth, with first-class DJ entertainment accompanied by the exciting Detroit Flyhouse Circus performers. The party will feature heavy hors d'oeuvres from local eatery Small Plates and a complimentary bar. This is sure to be the do-not-miss party of the convention! Bleu Detroit is located approximately a quarter-mile from the convention hotel. If walking, head north on Washington Avenue for four blocks, turn right at Grand Circus Park (under the People Mover station), then turn right at Woodward Avenue. The venue will be a half-block down on the east side of the street.

Saturday, June 9
8 to 9:30 am
Morning Excursions to The Heidelberg Project and The Eastern Market
Saturday morning offers two separate opportunities to experience Detroit's favorite community treasures. One excursion visits the unique Heidelberg Project, a vibrant urban art installation that has made national headlines. The other excursion visits the bustling Eastern Market, a local food district with more than 250 independent vendors and merchants selling goods from all over the Midwest. Via shuttle bus, guests will visit the site for roughly an hour and will receive a brief tour. The outings occur simultaneously, so guests can only choose one in which to participate. The good news is one can't go wrong with either; both sites are outstanding and provide authentic Detroit experiences! Space is limited to 25 people and reservations are mandatory. Cost is $5 per person, and will be collected when you pick up your badge. Please send an e-mail to Debra Silvestrin (debra@aan.org) if you would like to reserve a spot. Indicate names of all attendees and tour requested. Buses will depart promptly at 8 am. There will be some overlap with the first session of the day, so plan accordingly.

12:15 to 1:45 pm
Lunch: State of AAN and Annual Meeting

7 to 11 pm
Place Your Bets
Close out the convention at the city's premier casino, Detroit's MGM Grand! The Grand has exceptional restaurants and gaming rooms. Stop by V Nightclub before or after dinner, and between bets, a drink. Must be 21; ID required for entry. The three-block walk isn't recommended after dark, but always use common sense. Cabs should be easily acquired. Thanks to the Detroit Metro Convention & Visitors Bureau, we'll also have a shuttle bus available from the MGM back to the Westin.
Greektown Crawl (Evening)
For an alternative to the casino, head to the Greektown district for food, drink and entertainment. Some favorites eateries are:
Astoria Pastry Shop -- decadent desserts and coffee
Delux Bar & Lounge -- popular bar scene with DJ-inspired
dance floor
Fishbone's Rhythm Kitchen Café -- seafood, steaks and
sushi with New Orleans flair
Mosaic -- swanky "world-fusion" cuisine and cocktails
The Old Shillelagh -- spirited Irish pub with live bands
Pappi's -- sports bar and grill
Pegasus -- authentic Greek cuisine and atmosphere
Redsmoke -- neighborhood Southern-style barbecue
From the convention hotel, head north on Washington four blocks to the People Mover. Ride to the Greektown station, enter the casino and take the stairs to street level; head right to the corner of Monroe and Beaubien. Venues will line Monroe Street. People Mover fare is 75 cents each ride. The Mover runs until 2 am on Saturdays.
Please note: the schedule is subject to change.
Hosted By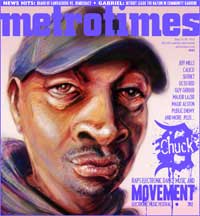 Detroit's weekly alternative
Sponsors
A hearty thank you to all of our 2012 sponsors. Please show your support by visiting them & learning all you can.
Exhibitors