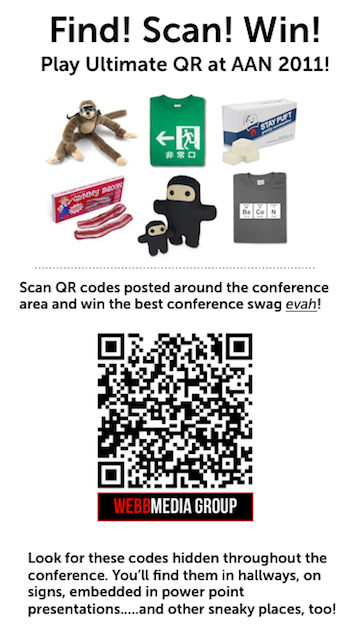 Play Ultimate QR With Webbmedia Group
How To Play:
1. Smartphone users should download a QR code reader. For iPhone users, we like the QR Reader app (free, easy) and i-nigma (free - and our favorite!). For Android readers, we recommend Barcode Scanner or Mobiletag Barcodes Reader. For more information, see the Android Marketplace. For those on a Blackberry or if you have another kind of camera-enabled smartphone, click here. What's a QR code? We're glad you asked! Download our QR Code primer here: http://www.webbmediagroup.com/WMG_QR_Tipsheet.pdf.
2. Scan the QR code above to register for this game. You can also click here to see a bigger, higher-resolution code. You must complete the tweet in order to play (you'll see what we mean when you scan).
3. When you arrive at the AAN Conference on Friday, January 28th, keep an eye out for QR codes. They could be anywhere...at exhibitor booths, at the registration table, embedded in Power Point presentations, hidden in the hallway plants...
4. Scan and win! Each code is different. Some will automatically win you some amazing swag, some will ask you to answer a trivia question about AAN, and some will give you more information about Webbmedia Group and Knowledgewebb.net (the game's sponsor). Some QR codes will even display links to some of the best work done by AAN members in 2010.
5. Stop by the registration rable throughout the conference to check on winnings! You might find QR codes hidden around the booth, too...
Amazing Swag!
Sorry, did we say "amazing?" We meant AMAZING! As in Screaming Monkey Slingshots... Japanese "Emergency Exit" T-shirts... Stay Puft Caffeinated Gourmet Marshmallows... And the super-amazing Ninja stars that got Steve Jobs detained at airport security a few months ago!