AAN News

At the AAN Digital Conference in San Francisco, one message was loud and clear: With a strong and distinct voice that daily newspapers can't replicate, and years' worth of hard-earned community trust that the fly-by-night "hyperlocal" networks can't buy, the local alt-weekly has major advantages over its competitors in the battle for digital dollars. (
FULL STORY
)
Sarah Johnson, who has been with the Omaha alt-weekly since December 2008, is leaving to become manager of the Greater Omaha Young Professionals, a group formed by the Greater Omaha Chamber of Commerce in 2004 to draw younger people into the city's business life. The 27-year-old was reportedly selected from a field of more than 170 applicants.
Neighborhood News
is a new micro-local publication launched by Pioneer Publishing, the parent company of
The Reader
. The 11 different editions of the print product will be mailed directly to more than 250,000 homes each month, and the publication's
website
will be updated with weekly content online. (
FULL STORY
)
Pioneer Publishing Press Release | 01-13-2010 8:05 am |
Press Releases
Boise Weekly
and Omaha's
The Reader
each recently received $1,250 from AAN to pursue ambitious diversity-related projects as part of AAN's Diversity Grant program. Last fall, the Diversity Committee expanded the scope of the program to include diversity-related projects; the grants to
Boise Weekly
and
The Reader
mark the first to be awarded to projects rather than interns. (
FULL STORY
)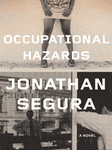 So says
Washington Post
critic Patrick Anderson, who describes ex-
Omaha Weekly
(now
Omaha Reader
) news editor Jonathan Segura's "Occupational Hazards" as "a savagely funny first novel" that tells a "dungeon-dark tale of low-rent journalism, political corruption and rampant degeneracy in a hellish Omaha." According to Anderson, Segura joins ex-
Philadelphia City Paper
editor
Duane
Swierczynski
as mystery writers whose work is part of a new trend in the publishing business of releasing offbeat novels direct to paperback.
Ken Mayer, a freelance critic for The Reader in Omaha, Neb., was one of 25 critics, editors and reporters chosen as fellows in the second annual National Endowment for the Arts (NEA) Arts Journalism Institute in Classical Music and Opera. The institute, which offers intensive training to arts journalists working outside the country's major media markets, will take place at Columbia University in New York City from October 16-27.
John Heaston told the Omaha World-Leader that he is buying the AAN-member Omaha Reader from the family of the late Alan Baer. Heaston helped to found the Reader before selling his stake in 1999 and later starting up the competing Omaha Weekly. The two papers will merge and, "for now," will be called the Omaha Weekly Reader, according to Heaston.
Alan Baer's "love for the obscure and the nontraditional led him to the alternative news weekly," Omaha Reader writes of its eccentric owner, who died of cancer Nov. 5. The paper remembers Baer as "the philanthropist and the gentle man with a quirky sense of humor, who never lost faith in those around him and in the city he loved."
Timothy Schaffert
's first novel is to be published by BlueHen, a new literary division of publishing giant Penguin Putnam, in June 2002.
The Phantom Limbs of the Rollow Sisters
is about sisters damaged by abandonment. Schaffert, managing editor of the
Omaha Reader
says his day job is like a baby squalling in the next room, "a distraction from creativity, certainly, but an important distraction." (
FULL STORY
)
Former publisher Beckmann leaves after founding paper six years ago. (
FULL STORY
)
Former Owner Beckman Remains as Publisher. (
FULL STORY
)
Six New Member Papers Admitted into AAN. (
FULL STORY
)